Is your kid's playroom a mess? We've got tips for decorating and organizing their playroom so that it's fun, functional, and educational.
It's very easy for kid's playrooms to become a constant source of mess and clutter. We strive to keep ours not only clutter-free but ensure that it is fun, functional, and elements for educational play. Toys are rotated out and donated to local thrift stores once the kids no longer play with them, or have outgrown them.
Although our kid's playroom is a constant work in progress (and is not always quite so tidy), we recently included something new that the kids absolutely love–a wall map. They point out where our extended family lives, and we show them where we are going (or have been) on vacation. This is also a great Geography tool for them to help them remember the names of oceans, continents, countries, and states.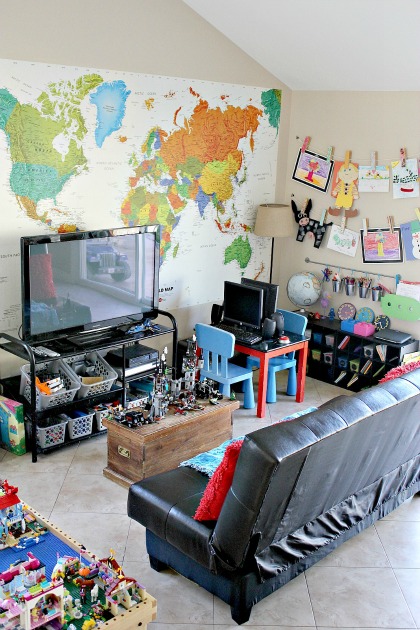 Note: this article was originally created by me for the website Rusty and Rosy, however that site is now offline.
Kids playroom organization ideas
Role play
Miss M collects their work from school and keeps it in a bin, which she uses to 'teach class' at home. She uses the whiteboard to write lessons and mark which of her students are doing their work and behaving in class.
Art space for kids
They love the buckets filled with pencils, glue, crayons, and markers. There is also a blue wood bin on the floor next to them filled with coloring books, activity books, and plain paper. These items are constantly stocked, and pencils sharpened so they don't get frustrated looking for drawing materials.
We purchased the art easels /chalkboards from IKEA a few years ago. Behind the chalkboard is a roll of paper that can be quickly pulled over the top and secured with large pegs for painting and drawing. Recycled cans covered in scrapbook paper hold whiteboard markers, paint brushes, and chalk. There is also a rag and whiteboard eraser for easy clean-up along with art smocks hanging off each easel to protect their clothes.
Homework station
As they bring home library books and their weekly homework packets they place them in the green submarine bin next to their art supplies. Inside that bin are tubs with pencils, erasers, glue sticks, rulers, scissors, and pencil sharpeners; everything they need to complete their weekly homework packets. They also have back-to-back computers to complete their nightly computer homework and watch LEGO YouTube playlists without fighting over who's turn it is. These are on an old table that I painted with chalkboard paint that they can write notes or doodle on, and can be quickly wiped clean.
Display kids artwork
As they bring art home from school (or do fun projects at home) I rotate it on the wall. The art that comes down is photographed (and recycled) and is printed in their annual art photo books.
Kids playroom storage tubs
Storage tubs underneath the television contain items such as Hexbug sets, puppets, felt creations, and DVDs. This makes it easy for them to clean up these items after playing with them. Two large buckets with lids near the bookshelves are for toy cars and miscellaneous toys such as blocks and balls.
A multi-purpose play table for kids
This multipurpose table is my favorite playroom item. The LEGO boards on top can be removed quickly to reveal a train track mat underneath for building train sets. There are two large rolling bins underneath the table; one for trains, the other for LEGO.
Music
There is a keyboard (that belonged to their older brother). The playroom also has a CD player/Radio for playing music and dancing to reduce television time.
Kids playroom bookshelves
Their bookshelves are somewhat organized. On the left side are chapter books as well as geography and nature books. On the right side are younger picture books, comic books, and early readers.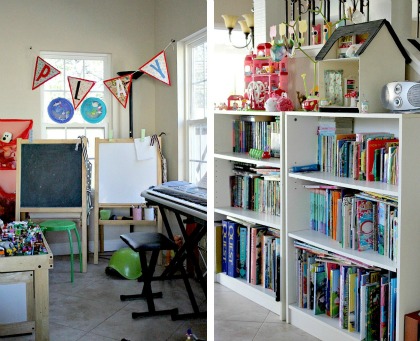 Do you have any other tips for organizing playrooms? I'm always looking for new ideas, especially as the kids grow.