Make a simple costume for kids based on Disney's The Pirate Fairy movie. The best part is the pieces can be used over the years for different costumes.
Disclosure: We were invited to attend social media events at both Knott's Camp Spooky and SeaWorld's Halloween Spooktacular.
Both Marisol and Flynn decided they want to dress as pirates this year for Halloween.
Flynn's been a pirate three times already, it seems to be his thing, but for the last two years, I've handmade costumes for him – Mr Bump and LEGO Lord Vampyre. I'm sure I could have thrown together a DIY costume for him this year, but I decided to just purchase a new pirate shirt for him (from Party City), pair it with black pants that were already in his closet and re-use his pirate hat, hook and eye patch from previous years. So simple.
I was surprised when Marisol suggested The Pirate Fairy to me. She did this only a couple of days before we were headed to a social media event where the kids had been asked to wear costumes.
Nevertheless, it came together quite well.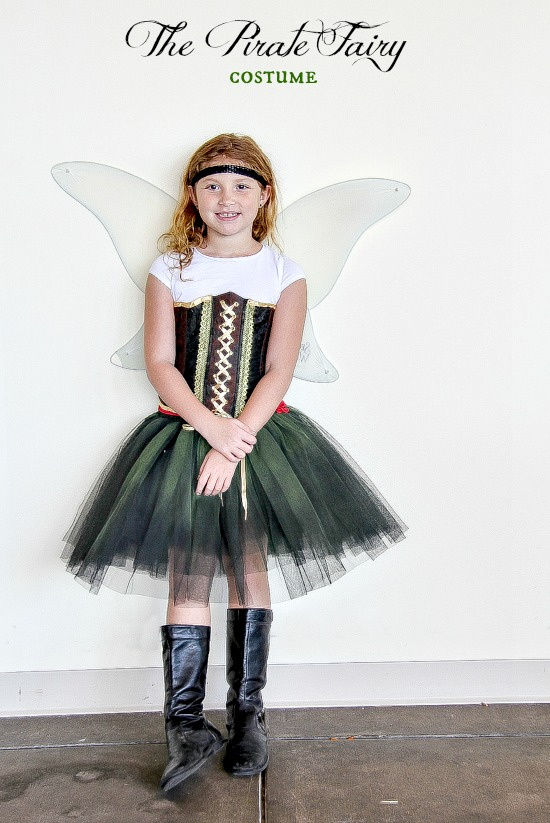 Thankfully, we had almost everything we needed to make this quick and easy costume.
What you need
WINGS: were from The Secret of the Wings and had been given to me at a screening in New York a couple of years ago.
TUTU: this is a black tutu a lovely friend made her a few years ago, so I grabbed a can of green spray paint and sprayed a few coats over it.
BOOTS: These were hand-me-downs from a little friend and had been tucked away in her closet for the past year. We just discovered they now fit her. She was thrilled (and has worn them almost every day since).
T-SHIRT: Straight out of her closet.
CORSET: This was the only tricky part. Unfortunately, Party City didn't have separate corsets for kids, just corset dresses, so I purchased an adult-sized corset and took it in using my sewing machine.
HEADBAND: Part of one of Flynn's old pirate costumes – he had used it as a belt.
HE RED BELT: A scarf from my closet
If you are looking for last-minute costume ideas, get a little creative, and look inside your closet.
The kids were able to wear their pirate costumes to two fun Halloween activities.
Knott's Camp Spooky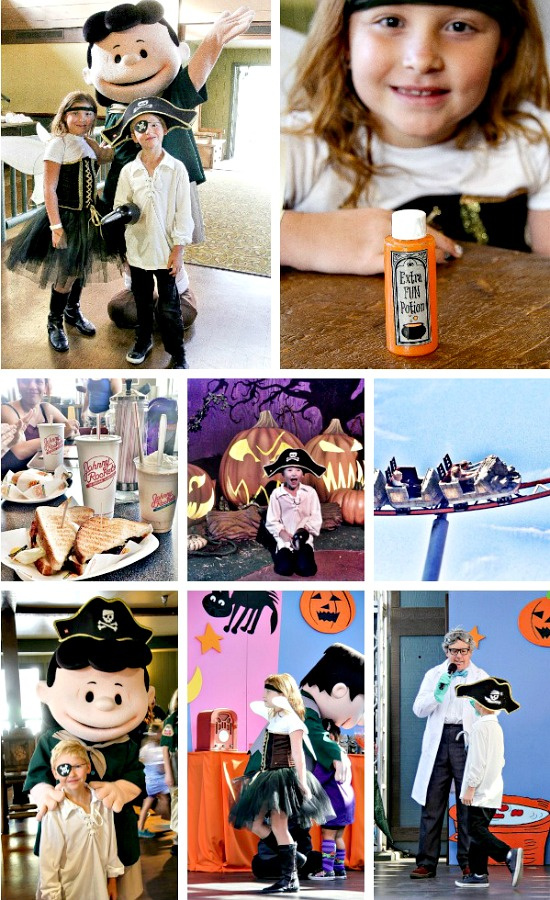 The kids had such a great day, we almost had to pry them off the Jaguar rollercoaster. They walked in the costume parade, made Kool-Aid poison potion, met The Peanuts gang, gobbled up treats, and got spooked by the pumpkins in the maze.
SeaWorld's Halloween Spooktacular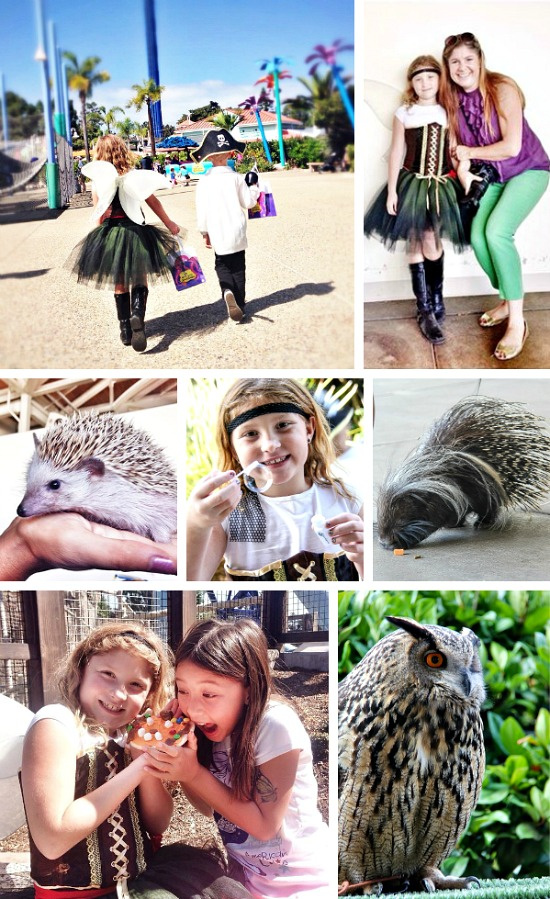 I even managed to come up with my own 'dig through the closet outfit' for this one. I channeled my inner Ariel and dug up green Ralph Lauren jeans, a purple ruffle Mossimo top, and gold peep-toe Rubi flats.
After enjoying a delicious social media breakfast at the park, we enjoyed meeting some of the animals and learning about them during a private animal encounter experience. We then decorated pumpkin cookies and headed off to trick-or-treat with Miss M's best friend while enjoying the park.
That black tutu has been used for numerous other costumes over the years including my own Jack Skellington costume. You can see that I painted over the green with white paint.
Looking for another fun Pirate Fairy inspired idea? Take a look at our Pirate Fairy cake.
Please pin this post for later: